College Book Store Gift Cards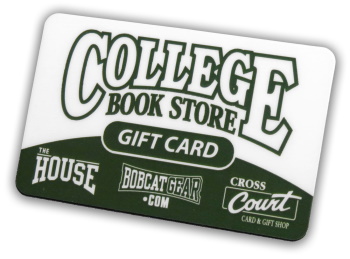 COLLEGE BOOK STORE GIFT CARDS
Available in any dollar amount, College Book Store gift cards are the perfect gift for any occasion. These gift cards can be redeemed at any of our company's three stores: College Book Store, The House, or Cross Court Cards and Gifts. They can also be used as payment for online orders via this website.
Plus, these cards are re-loadable too! You can re-charge and re-use them just like a debit card to help cover your favorite Ohio University student's bookstore expenses!
The recipient can use the College Book Store gift card quickly and easily - with just a swipe at any cash register or our website - towards the purchase of anything we sell... textbooks, supplies, sportswear, gifts, whatever they want most!
* to order gift cards in non-standard denominations, just
give us a call